November 12th ~ 4:50pm
This morning we were up bright and early to go to the beach. It was so refreshing after sweating all night. Now I can say that I swam in the Indian Ocean. Which by the way must have 10 times more salt in it than our ocean.
After that we got cleaned up and received breakfast which was one bun. It was delicious and amazingly it filled me up until lunch. After breakfast we met in the church for Heidi Baker's service. It was their kids church with 2 hours of worship and then Heidi preached. One thing I got from her message was this. "You will not go without if you share all that you have"
The church is in the bottom half of the compound where the village children have access to so there were all kinds of kids running around. They would just swarm you if they thought they could get a handout or if you had something interesting like a camera or a bible.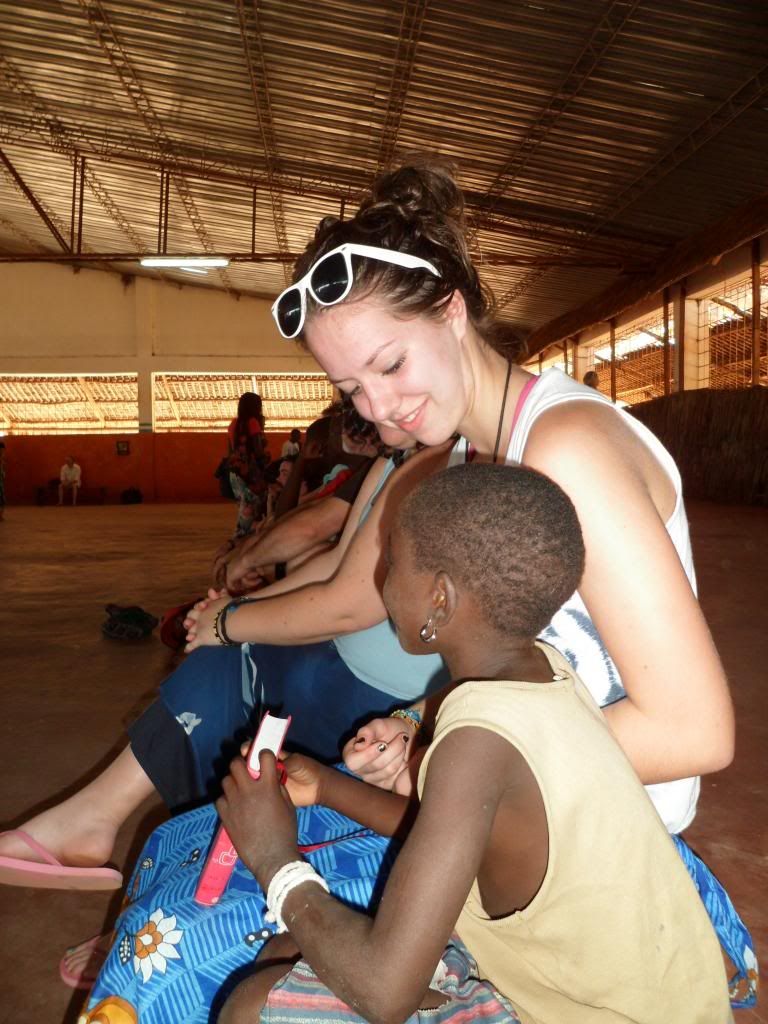 There was a girl there about 11-12 named Danya who was just sweet. She tried on my hat which I had discovered was too small for me. I forgot about it though and walked away. I realized later that she still had it and they had told us that the village kids would take things so I figured it was long gone. About an hour later though, she found me and gave the hat back. I told her she could keep it.
After that we had lunch and Don & Elizabeth came and took us to Noviane to set up the trampoline. The kids there were so fun. We did some face painting and we had some toys that we played with them and once the trampoline was set up, the kids had a blast on that.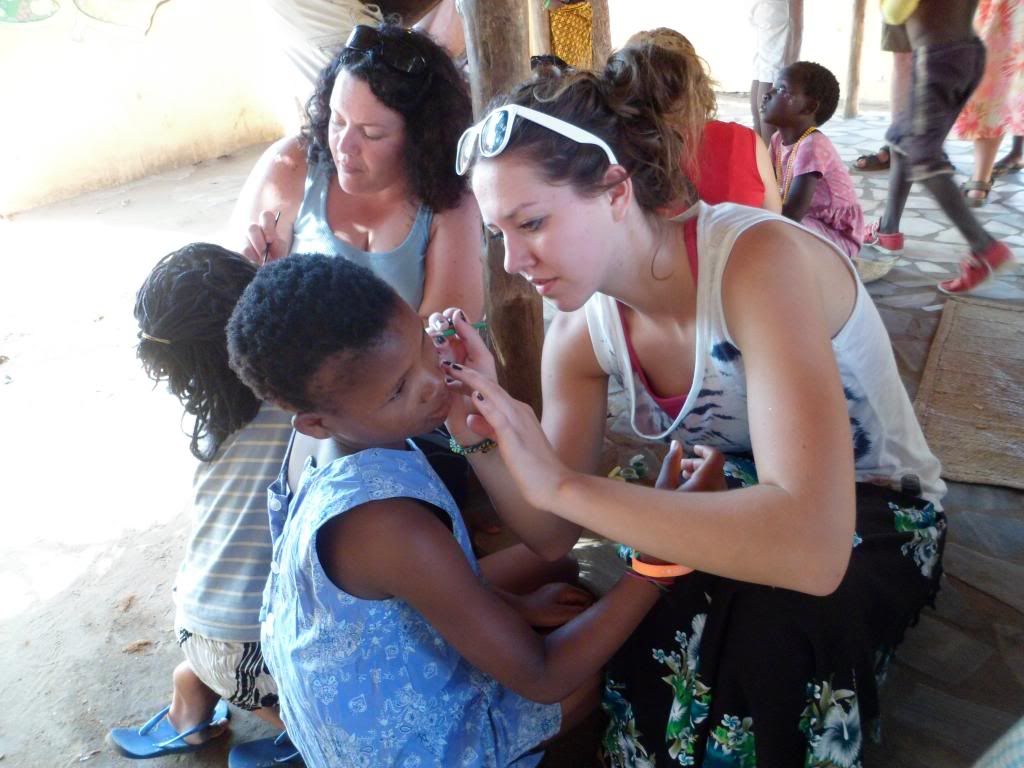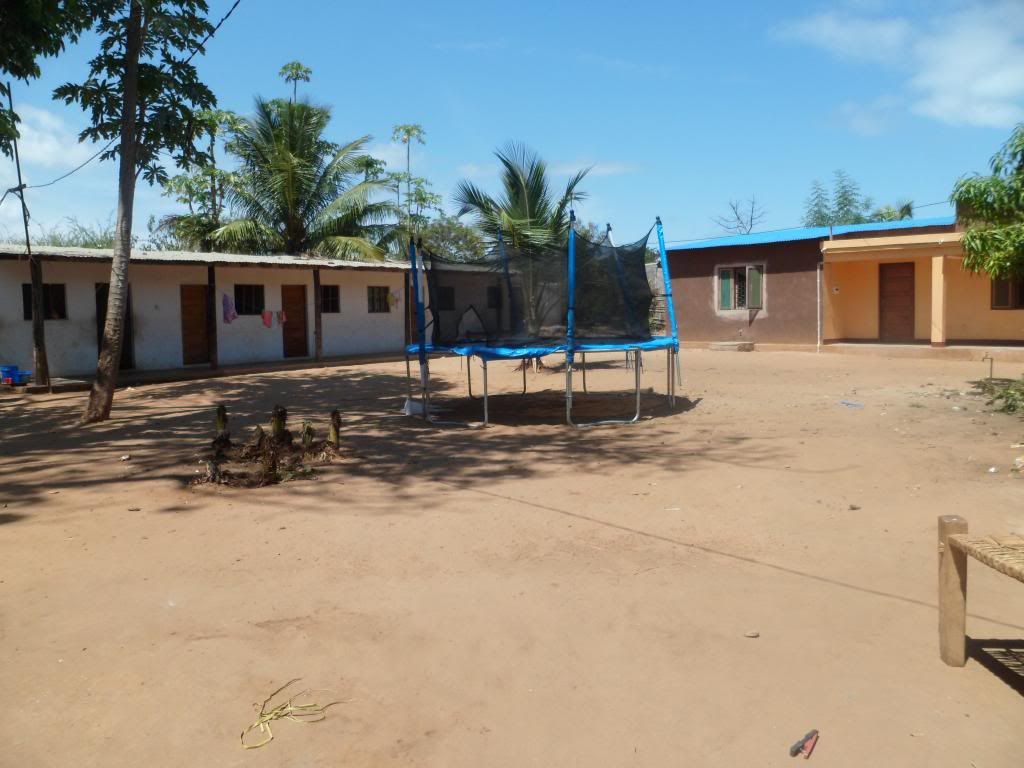 There was a girl named Ziena who knew english very well so the other kids would look to her to translate. She was so funny.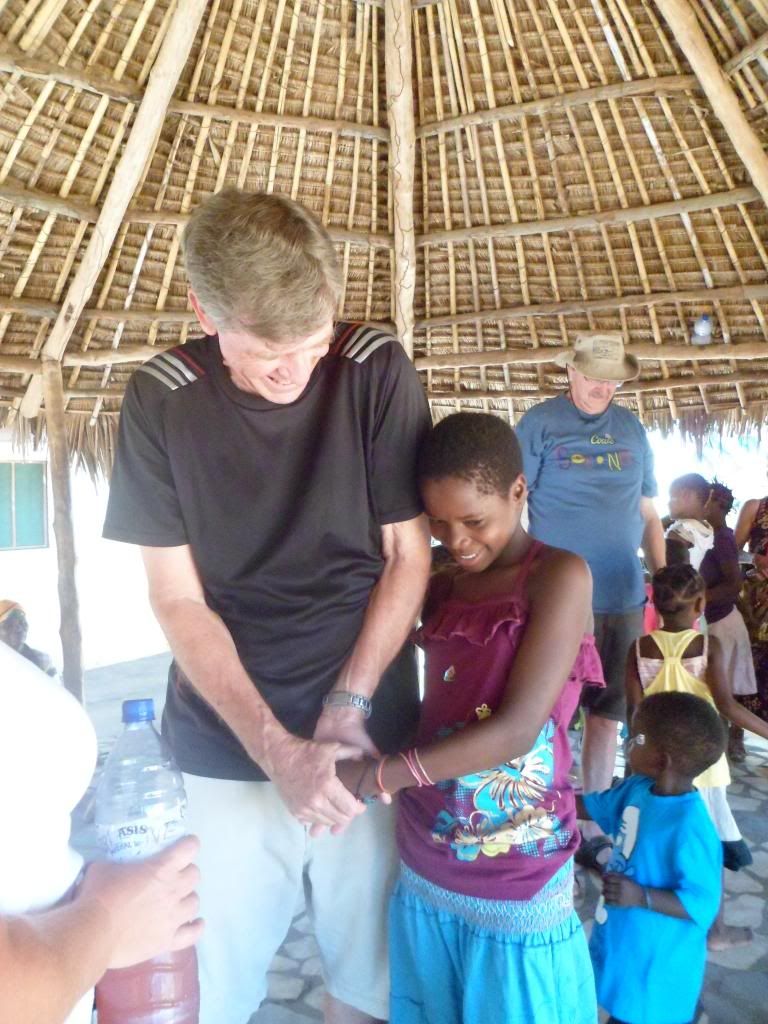 This is Ziena. She was embarrassed because Papa Don was bragging about how well she knew english.
Another girl who really caught my heart was Maria. She doesn't live inside the compound but her older sister does. At first I was taken back by here because I gave her a bracelet and then she would go hide it and then look for another member giving out bracelets and get one from them as well. I think she ended up with 6-7 of them. She was really sweet though and kept touching me and singing to me. She didn't know any english but she sang "Jesus loves me, Jesus loves you" to me and danced. She had a beautiful smile!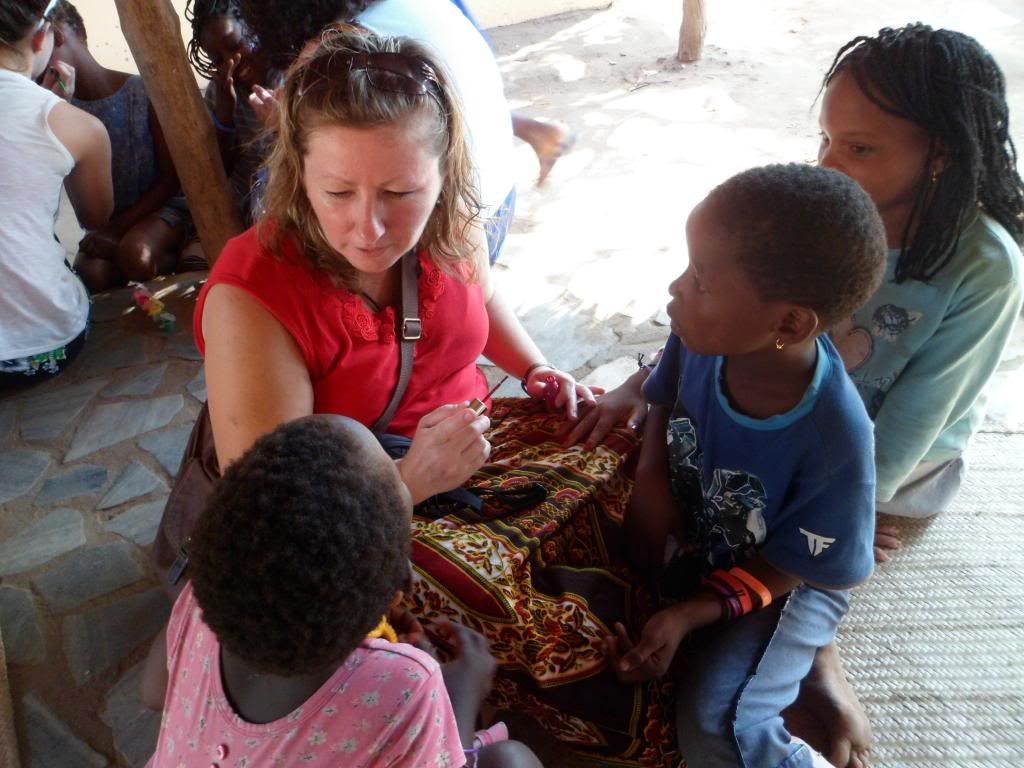 The one in blue is Maria. See all those bracelets on her wrist?
They all have wonderful smiles. There was a boy who kept asking me to take his picture and another tiny boy about 2-3 who gave me a thumbs up every time he saw me.
There was a mix up in communication when we went to leave. I ended up left behind with Gail J. We had to walk back on our own and I had to carry the duffle bag which wasn't very heavy since it was practically empty. It wasn't too far but probably about 2 km. I very nearly had an asthma attack when I got back though. I just couldn't catch my breath but I think I'm okay now.
9:30 pm
I had a major headache tonight. It's possible that the walk and my breathing caused it. After supper, we relaxed for a little while which was good because I needed some downtime. At 7:00 we went to a harvest school service where there was worship and the speaker was Duncan Smith and his team. The message he spoke really went straight into a place inside me. He talked about the spirit of independance. He gave an example where if we are offered something or if someone offers help we say "no thanks" because we don't want to acknowledge that we need help. I realize this is exactly what I do. I don't want to be a burden to anyone. I want people to not see my weaknesses. I need people. He said love is not love if it is only given. It needs to also be received.
God is speaking so many things to me. One verse I got tonight was Psalm 138:8 "The Lord will fulfill his purpose for me; your love O Lord endures forever- do not abandon the works of your hands." I have decided to trust that God has everything worked out for my life and all I have to do is trust.
My camera battery is dying. I'm trusting that God will help with that.