November 11th ~ 9:10am
I'm on a plane to Maputo, Mozambique now. We will land there, go through customs and then we will board another plane on our way to Pemba. It was another very early morning at 4:30 this morning. Had a late night last night as well so only got about 3-4 hours sleep. We stayed in Johannesburg last night at a guest house. My bed was right by the door and it didn't help that Lisa said that Johannesburg was the murder capital of the world! haha. Hopefully I can get some sleep on the next plane.
We got to the airport this morning in plenty of time to do a bit of shopping which I hadn't gotten a chance to do much of. I was able to find the kids a few things that I hope and think that they will be very happy with. It's hard to think of them without having tears well up but last night I was able to get online and received a message from Jeff that encouraged me and gave me the strength to move on. It feels like I have been away for a few weeks rather than a few days and last night it was really bringing me down so receiving that message at that time was I think God's way of saying "okay focus on the task at hand. Everything is okay at home." So for now my mind is on the kids I'm going to meet today. I'm so excited!
8:30 pm
These kids are absolutely adorable and amazing. We got into Pemba around 1:00. I was privileged to be sitting across the aisle from Don D who pointed out a ton of stuff as we landed since he'd been there many times before. The airport was tiny. Barely enough room to get past the baggage carousal. But there outside was Don Kantel with 5 girls between 12-14 years old. they were all smiles and as soon as we came out they were hugging and talking. They were playing with all the travel pillows we had. Having such a great time. One girl came up to me and started playing with the pink strands in my hair asking if I had colored on it. She was so friendly.
Once the big truck came, we loaded up the bags and jumped in the back of the truck with the girls. We sang and laughed the whole five minutes to the base.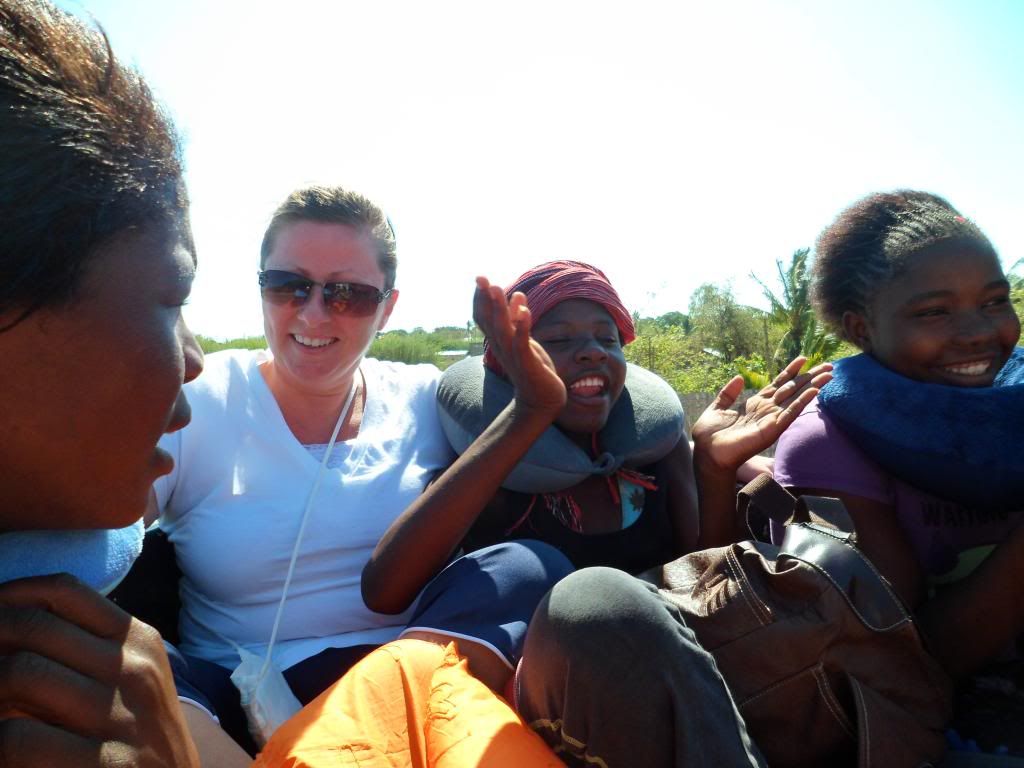 Once we got there, we met up with Elizabeth, got our rooms and then got a walking tour of the compound. It is a huge place. I think Don said it was 1 km from the front gate to the top of the hill and a half a km wide. One little girl came up to me and she made me think of Kaia because she was just her size and wore a sleeping beauty shirt.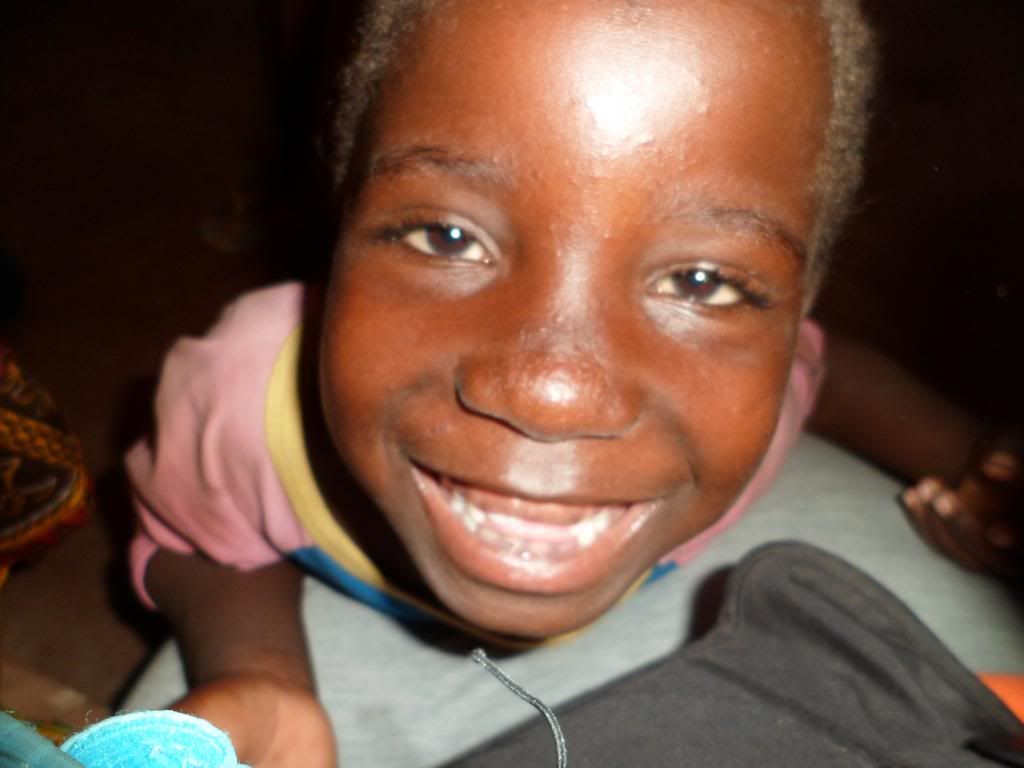 Later, we unpacked and reorganized all the duffle bags. Then we went to get supper. They were serving rice with something called Mutapa which I think is kale (or green leafy something) with peanut sauce and other stuff. It looked very slimy and since I didn't have a fork to use, I decided to eat just the rice. Plus I smelled Barry's and it didn't smell good at all. I will probably try it (
I didn't
) but I was so hungry that I wanted the rice to be just plain. It was good and filled me up. It was a crazy amount of rice they had. The pots they cooked it in were so big I could have sat in it. It took 5-6 big boys to carry one. I would say they feed close to a thousand people every meal. Amazing.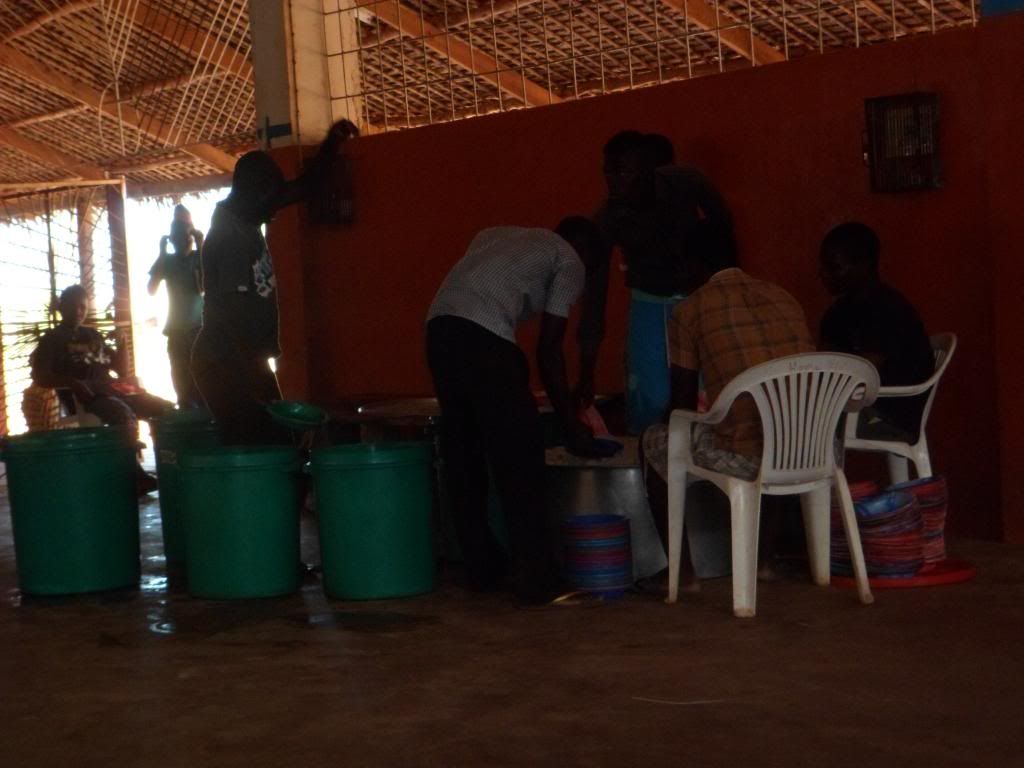 See that silver thing those guys are all sitting around? It's full of rice!
After supper we just relaxed a bit and then had a our nightly meeting and devotional. Now I am laying under a mosquito net with a flashlight as everyone has gone to bed early. We have two fans going and it is still sweltering hot in here. Thankfully there was a nice breeze today but Elizabeth said that is unusual. I'm believing for an awesome breeze everyday.
Tomorrow morning we head to the beach for a refreshing swim at 5:30 am. The color of the water here is unlike anything I have ever seen. I can't wait to go for a swim in it.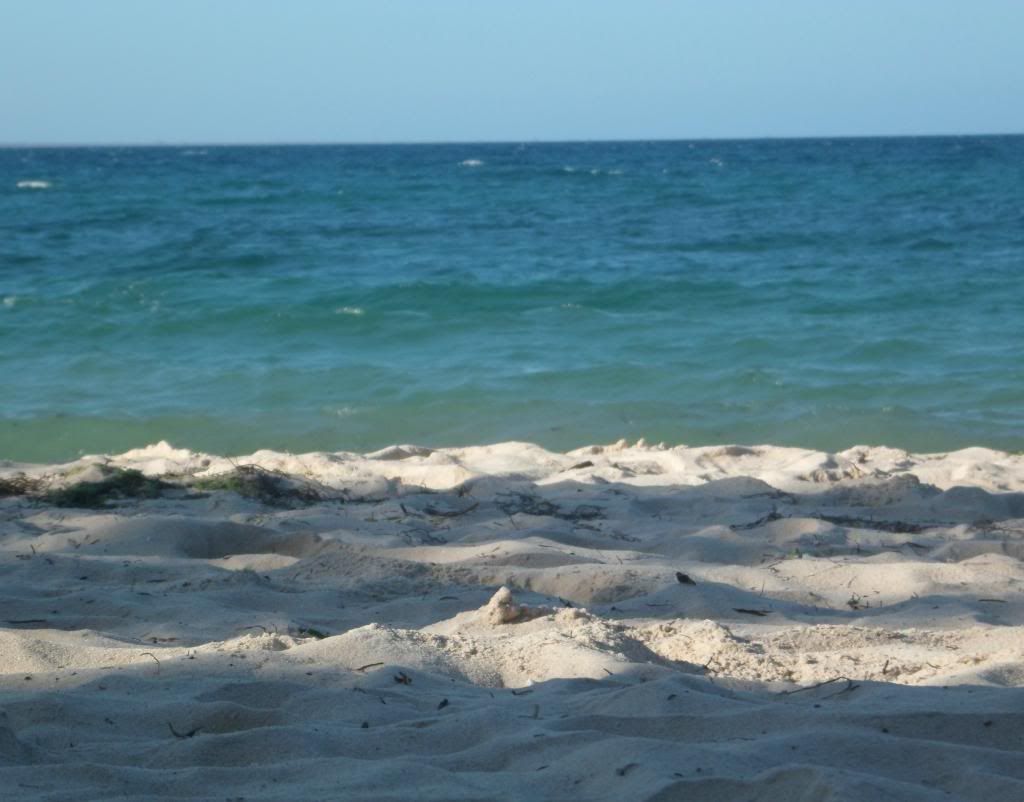 Afterwards there is a service with Heidi Baker and after that I don't know. I feel so happy here. When we were unpacking the bags, I just felt like singing.
I had so many kids come up and high five me and ask my name. There was a sweet little boy at dinner who as soon as Darlene crouched down, gave her a big hug. I could write on and on I think. I better get to sleep though. I think I'm getting used to the early mornings.