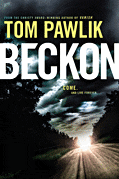 Honestly when I started reading this book, I thought I wouldn't make it past the second chapter. It felt dry and boring. The description on the back of the book kept me reading though and I'm glad I did. There are 4 parts to the book, the first three parts tell the tale of three different people and how they came to the town called Beckon. The first part told the story of Jack Kendrick, a Anthropologist, who with his buddy Rudy came in search of his father who had disappeared 12 years ago. Jack, Rudy and their guide Ben explore some caves and end up lost in them. They find strange and frightening creatures down there. The second part is about a former LA policewoman named Elina Gutierrez who had come to Beckon in search of her cousin Javier. He had disappeared 4 weeks ago. She runs into some trouble while she is there. The third part tells about George Wilcox who is lured to Beckon by Thomas Vale with the promise of a cure for his wife. The fourth part brings them all together.
I love a good mystery/thriller book and this book did it for me. The book was exciting and there was times where I couldn't put the book down. In fact, I finished it within a few days which is a small feat with four young children underfoot. It definitely kept me at the edge of my seat until the very end. This book was a great read.
I received this complimentary copy from Tyndale Publishers. A positive review was not required and all opinions expressed here are my own.