YI realize that I have used this blog as a venting space for a bit so I thought I'd write about what we have been up to.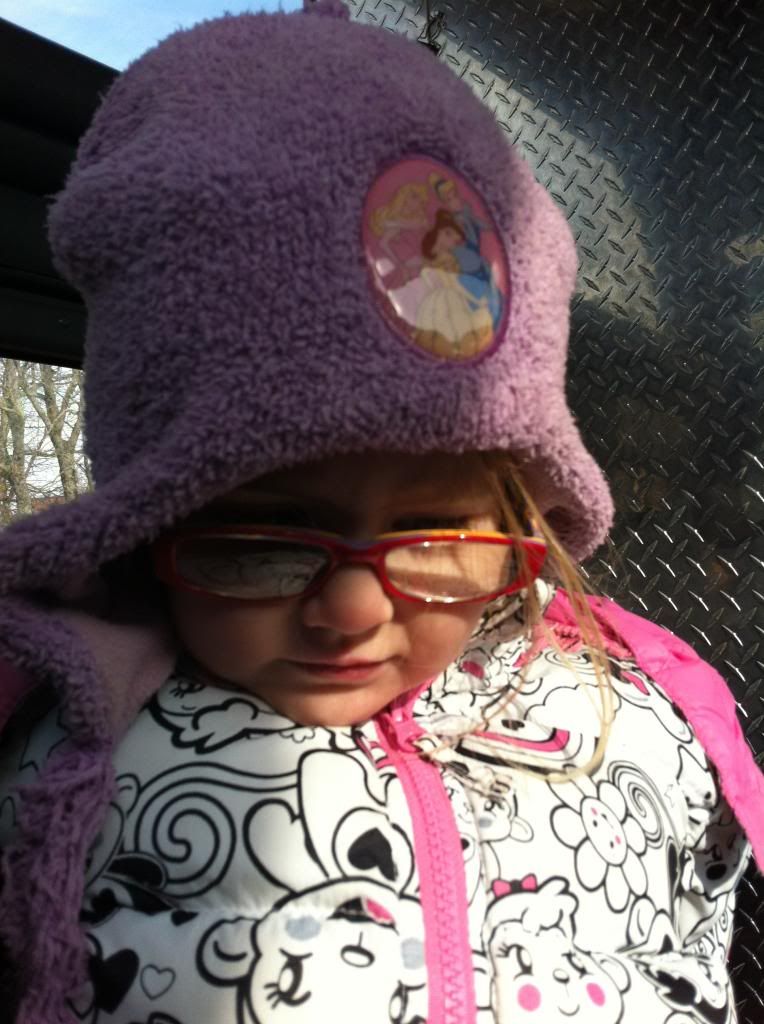 She wasn't so sure about this fire truck business
This weekend while "J" was off at her normal Saturday activities, Sweet Pea, the boys and I took in a winter carnival in a nearby town. With friends of course. As we walked up to the school where the carnival was. a fire truck pulled up and the nice fireman asked if we would like a lift. Riding in the firetruck was the main reason for us going and we thought we'd have to wait in a line. How fun was it that the fire truck picked us up before we even got to the carnival! The boys were especially excited. Sweet pea however had some reservations about it but with the promise that I would not let go of her, she was okay with it. (You know that meant that I had to climb up into a big truck while holding a 3.5 year old. A tricky task to say the least!)
I love this picture because she's putting on a smile but she's really still not so sure.
The older kids got to hang out in the back!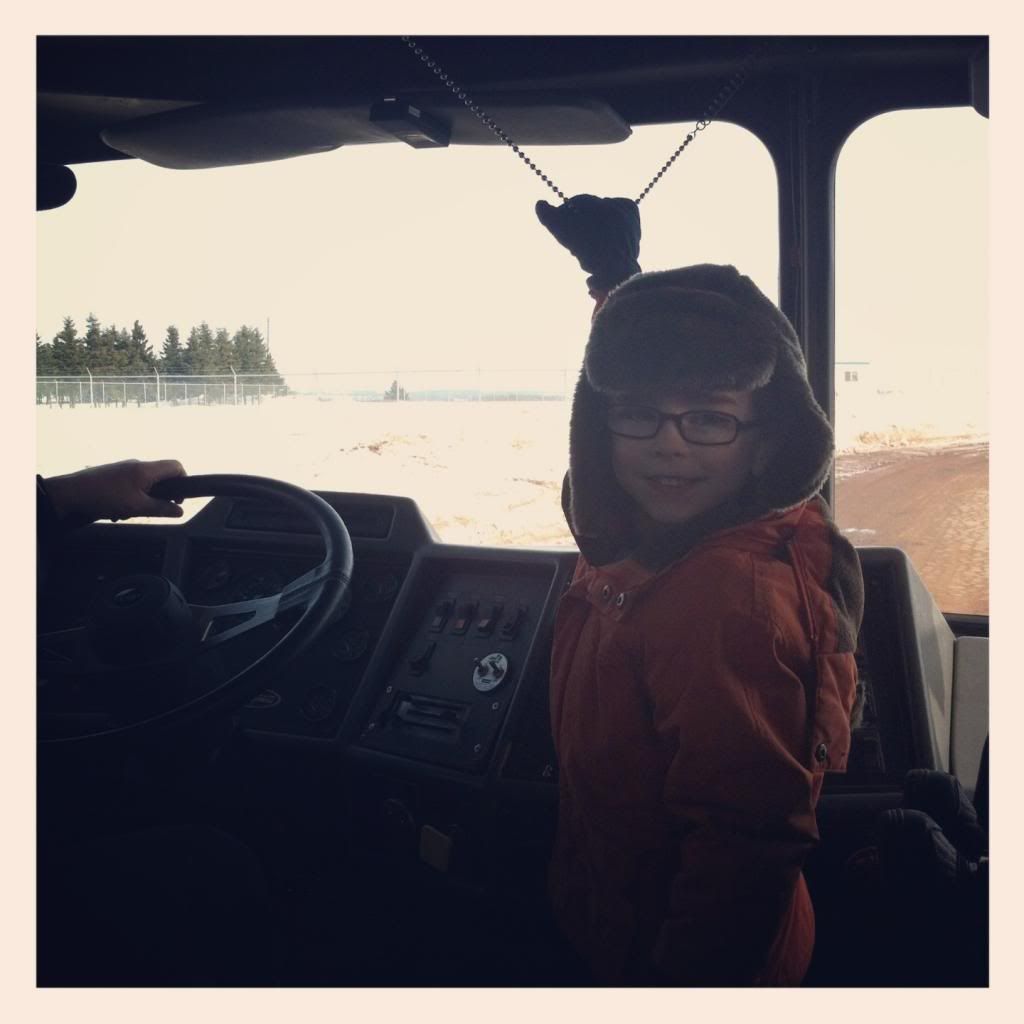 They even got to sound the siren. "I" was the only one that looked back at me so I could take a picture!


After the fire truck ride, we went inside the school and the kids decorated cookies, played with balloons in the gym, got their faces painted and the girls had their nails painted. It was a great way to spend part of our afternoon.
After the carnival, we went back to our friends house for some play time. The kids usually see these friends every week but with all the sicknesses we have had this winter, we haven't seen them as much and they have really missed them. It was great to have everyone healthy so we could finally have some play time. We even made arrangements for Jeff to pick up "J" from gymnastics and come out so we could all have supper together. Beth and I spent the afternoon talking homeschool resources and planning supper.
For supper we decided to play around with some egg roll wrappers that I had Jeff bring from our fridge. We made cheeseburger egg rolls and they were so delicious. Here's what we did!
First we cooked up the hamburger with some onions. When it was cooked, we added ketchup, mustard, and bbq sauce. We also added in some chopped up dill pickles.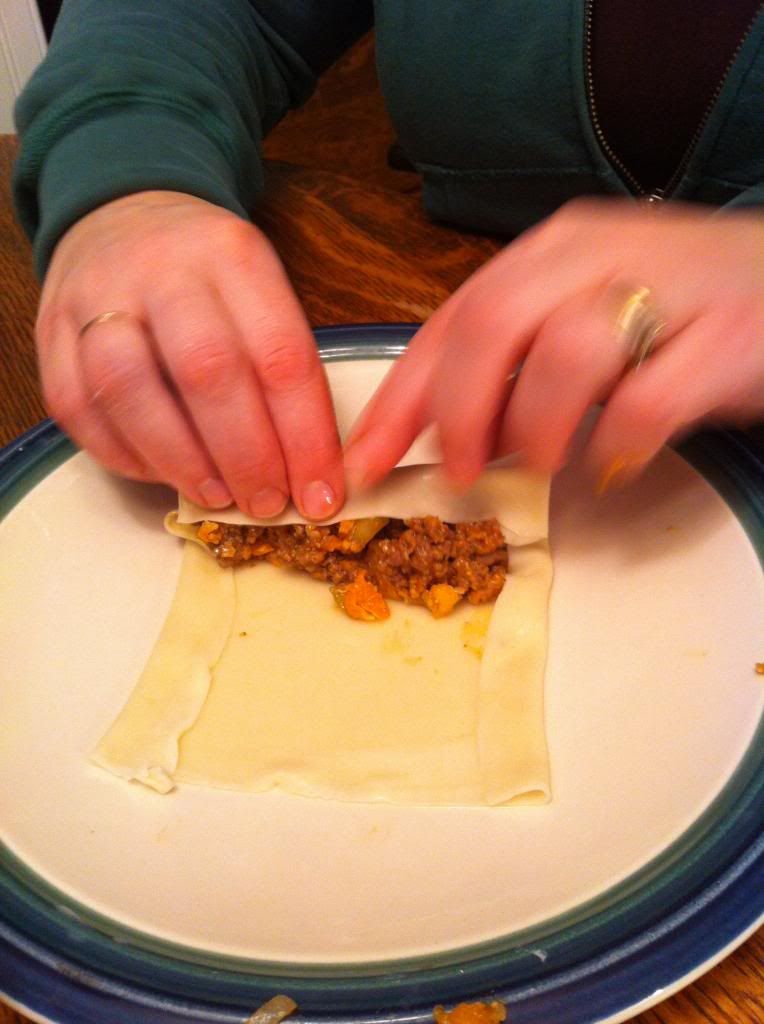 We then rolled the meat into the wrapper. It took me a few times to get it perfect but Beth got it the first try! As you can see from the picture below. The first two rolls were mine.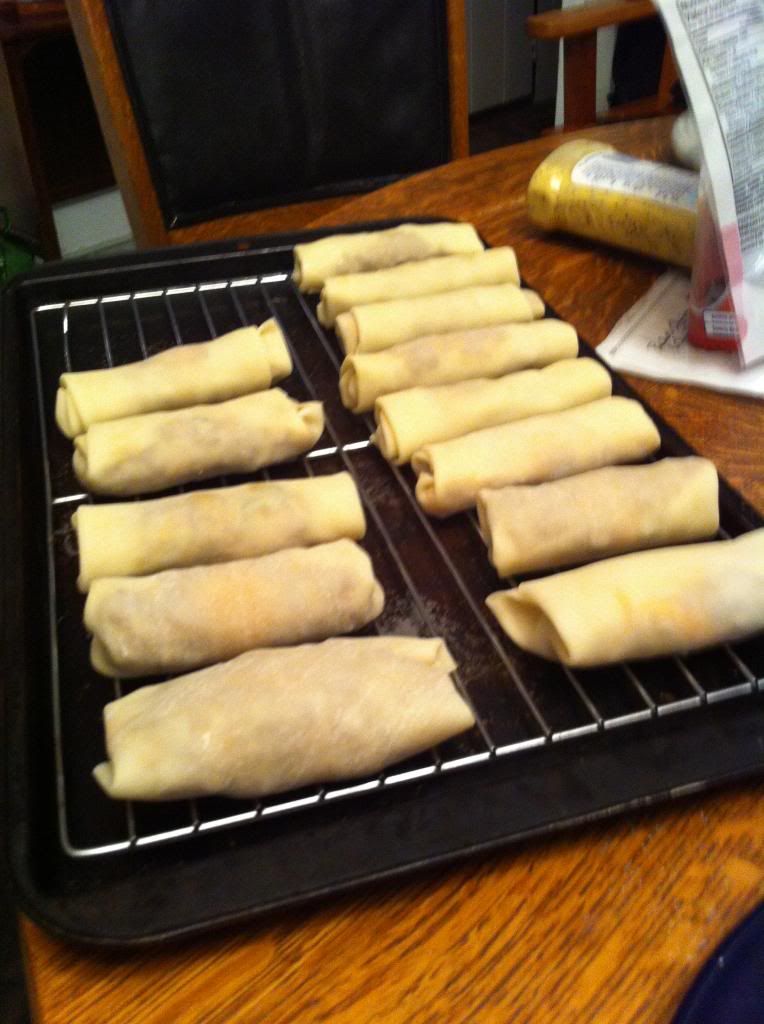 Once we got them all wrapped, the only thing left to do was to put them in the oven.. oh and to make this amazing looking salad!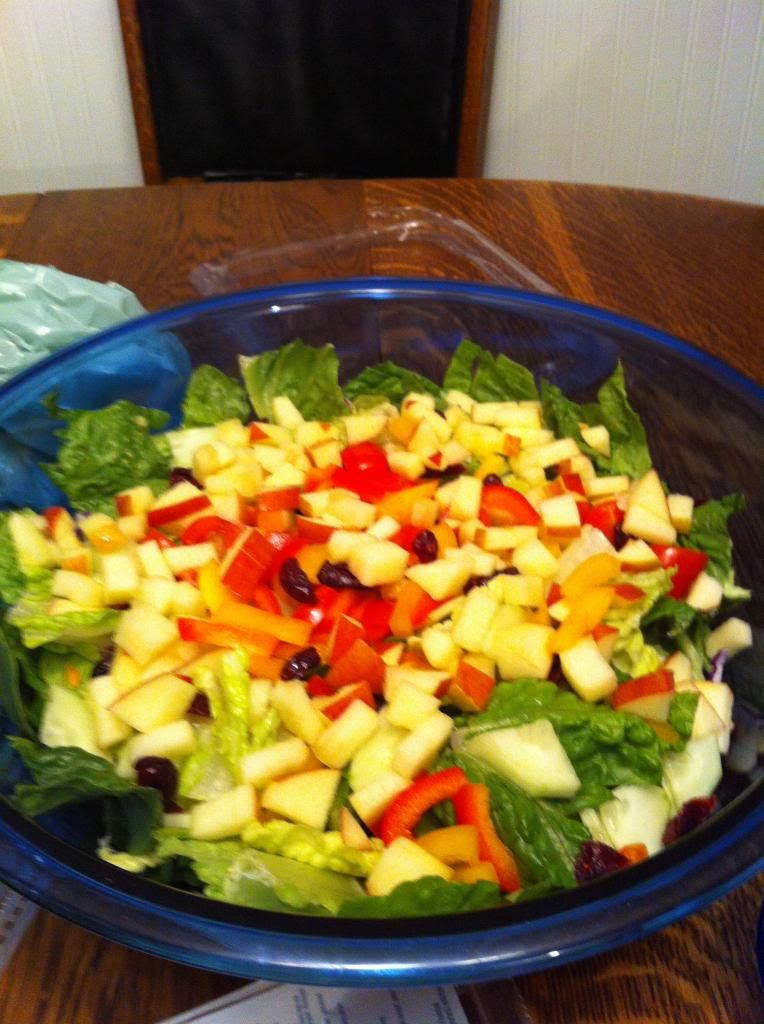 Take the egg rolls out of the oven and a perfect supper! We also made some spicy fries to go along with it. Unfortunately I forgot to take a picture of my plate.. I was too busy scarfing down the deliciousness. I did get a picture of the egg rolls after they came out of the oven.. don't they look delicious?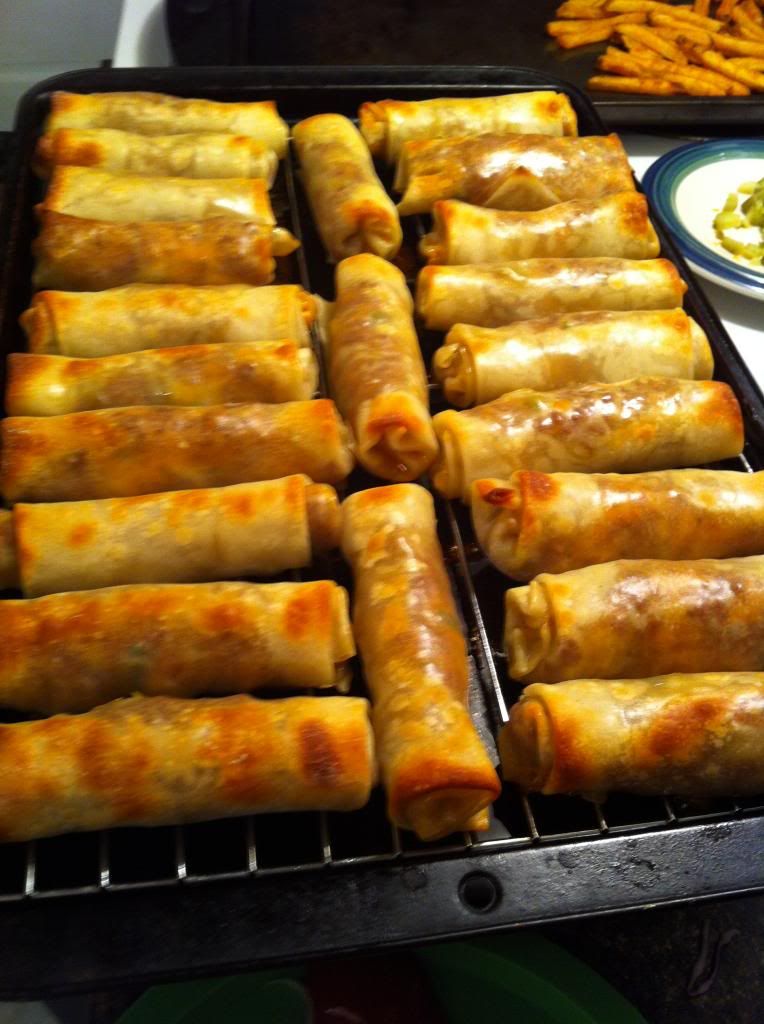 On Sunday, we braved a storm to make it out to my sisters house to celebrate this little guy's first birthday!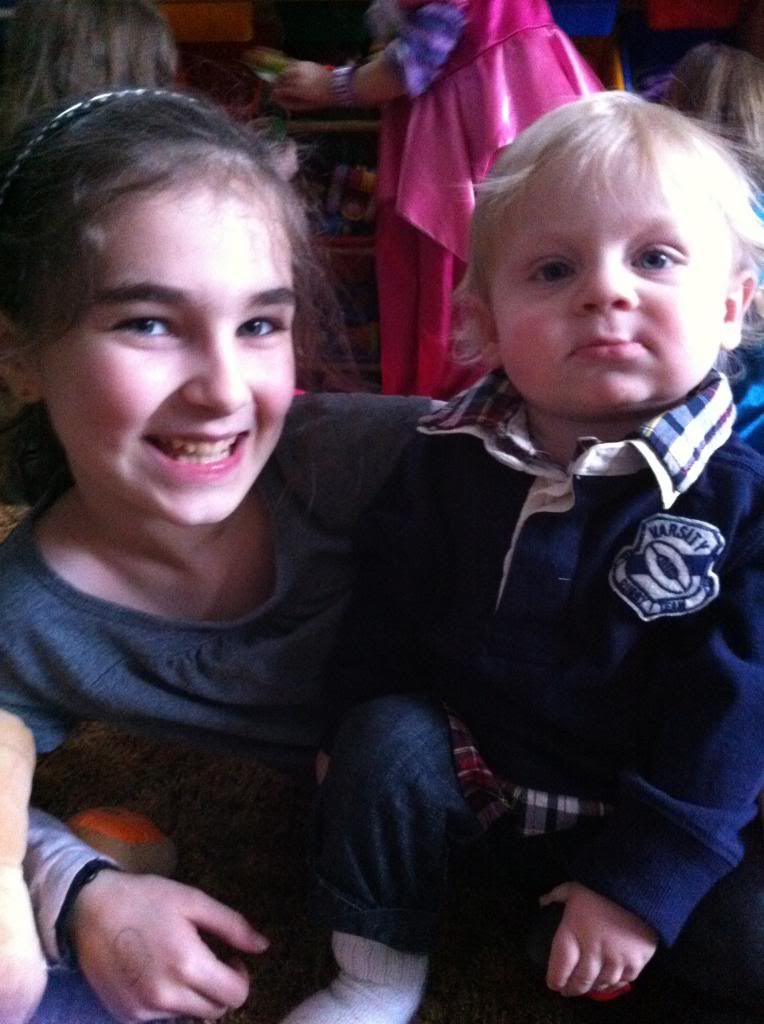 The rest of the week has been spent at home... I haven't been feeling well... My asthma has been acting up and it's been making me feel very weak. Thankfully I have a doctor's appointment tomorrow for it. Plus we had two storms this week that would have kept us home anyway.
OH I did want to mention this. As you know from my previous posts, I have been at my wits end trying to get Sweet Pea to make good choices and to keep her glasses on. So I fell back on an old trick that I had used when "J" was this age. A good choices chart. When I see her making good choices or even doing nice things for others, she gets a heart. It also works the opposite as well, when she makes bad choices, is defiant or mean to anyone she loses a heart. When she gets 10 hearts she gets to pick something out of a treasure box that Jeff and "J" put together. What a difference it has made. It took her a while to get to 10 hearts the first time. Understandably since she didn't quite grasp the concept of the reward at the end but she finally did reach ten hearts after about a week and she was soo proud.
She got to pick from the treasure box and she chose a pencil case with a ruler, eraser, pencil and sharpener in it.
Once she realized the fun of getting the reward, her behavior has been extraordinary! The next morning, she was dressed and had her glasses on before anyone even asked her to. Her only requirement is that we clean her glasses whenever she needs them cleaned. Which is acceptable to me even though she needs them cleaned three thousand times a day.. I don't mind so much if I know she's going to put them right back on!
This chart has really saved my insanity! It has turned us around. I used to lay in bed in the morning strategically planning how I could get her to put her glasses on and how I could avoid meltdowns. Now I lay in bed in the morning trying to catch a few more winks of sleep! lol
Anyway, that's been our life these days. Now the kids are ready to start school and so our day begins!
I wanted to leave you with a song that has been really speaking to me lately...
Kari Jobe ~ You Are For Me
I am weak all the time. God is strong... What a wonderful thing to remember....