When we moved in this house six years ago, "J" got to pick the colours for her room. She was 6 at the time and picked a pink and purple room. Because she didn't have to share, she got the smallest room. Her sister came along a year later and ten months after that it was time for them to share a room. Because she had the smallest room, we decided to give her our master bedroom while we took her room. So we used some leftover paint and painted her beautiful pink and purple room to suite our needs (well truth is, I don't think hubby would like having a pink and purple room) Our master bedroom was painted a lovely caramel colour. Lovely when I was in that room. Not so lovely to my 7 year old daughter. We promised her that we would change her room colour as soon as we could. To make it a bit more girly, we did paint a beautiful tree in there.
Over the years, we have tried many things to keep the room organized so they could share comfortably. Unfortunately as "J" gets older, she is needing more and more privacy. A place to call her own. Recently I came up with the idea of building "J" her own private bed complete with a curtain. So I enlisted my wonderful father's help and so began the bedroom makeover.
Her last bed was mounted up on the wall to give space for Sweet Pea's bed underneath but even still we had two dressers in the room and it just felt so crowded. Here's a picture of their previous beds..
"J" was tired of having a bed so close to the ceiling and I didn't blame her. As you can see, she didn't have a ladder, just a dresser to climb up with. In order to take out the dressers, we needed to build the bed with a dresser built in. Let me tell you, my dad is a genius! I scoured the internet looking for ideas. All I had to do is present these ideas to him and he starts building. What he came up with was beyond my imagination!
To "J's" delight, because we were going to be taking down her previous bed, we were going to have to do some crack filling and repaint the room. When she told me what her colour choice was going to be (And yes she convinced Sweet Pea to want that same colour) I wasn't so sure about it, but I got some colour swatches and with a little compromise, we came up with something we both loved.
And now without further ado,.... The pictures.... (p.s. I tried to find a picture of the other side of the room but couldn't so just imagine it.. it's basically a wall and a closet hehe) Also I didn't get many pictures of the bed building in progress but I did take pictures of the installation when I could.
Bed is in, enclosed, the end wall is drywalled and it is primed. The hole at the end of the bed is the access point to some storage space we made sure to have.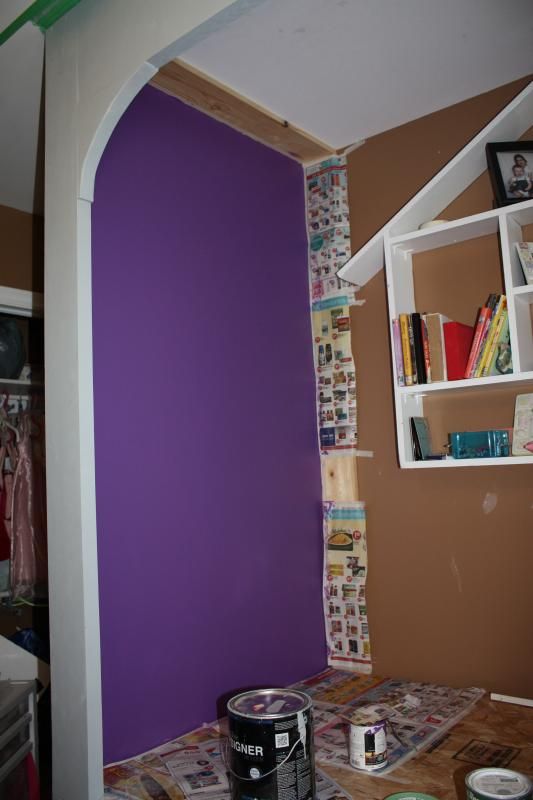 We decided on this purple for the accent colour since it matches well with her comforter.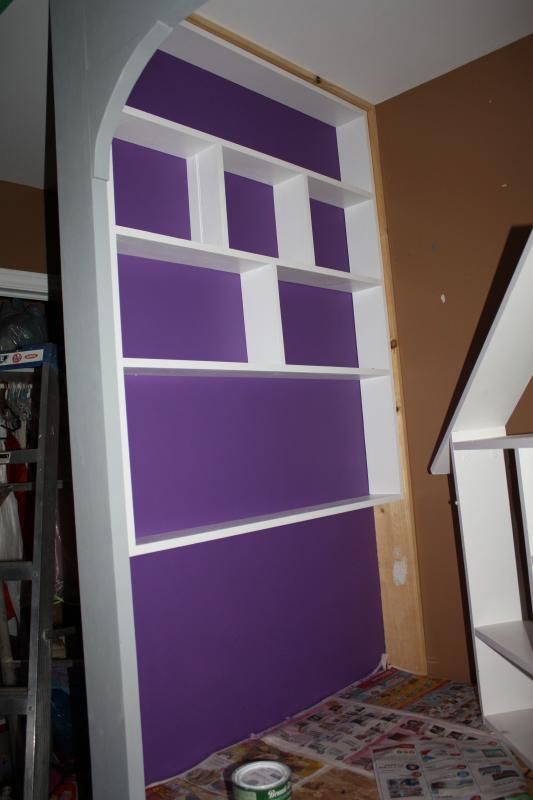 Dad built some beautiful shelves to put all her treasures on.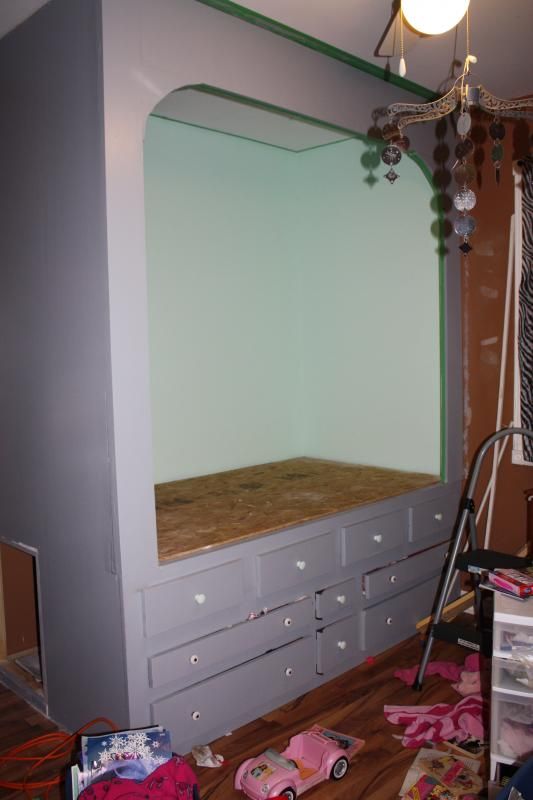 Got colour on the interior wall. Excuse the mess.. We didn't have a place to put the girls while we made over their room and goodness it's hard to have a workspace and girls living in that same place.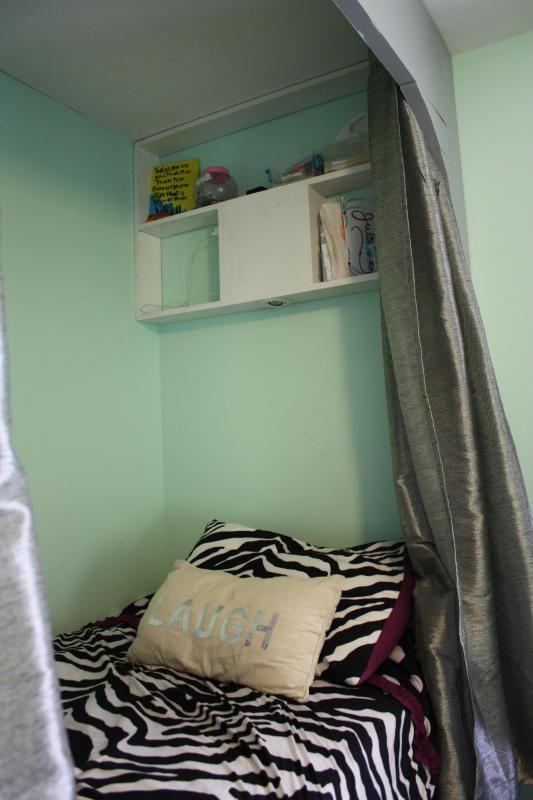 We liked the bookshelf on the other end of the bed so much, we decided to build another one for above her head. Also found these perfect curtains for cheap and got them up.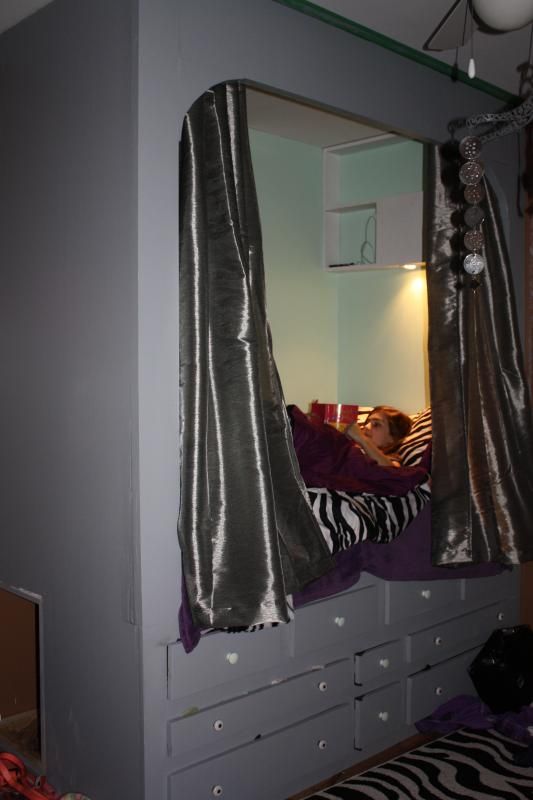 Oh and like I said, my dad is a genius so he went ahead and added a pot light to the shelf as well as an electrical outlet so she could charge her ipod on her shelf.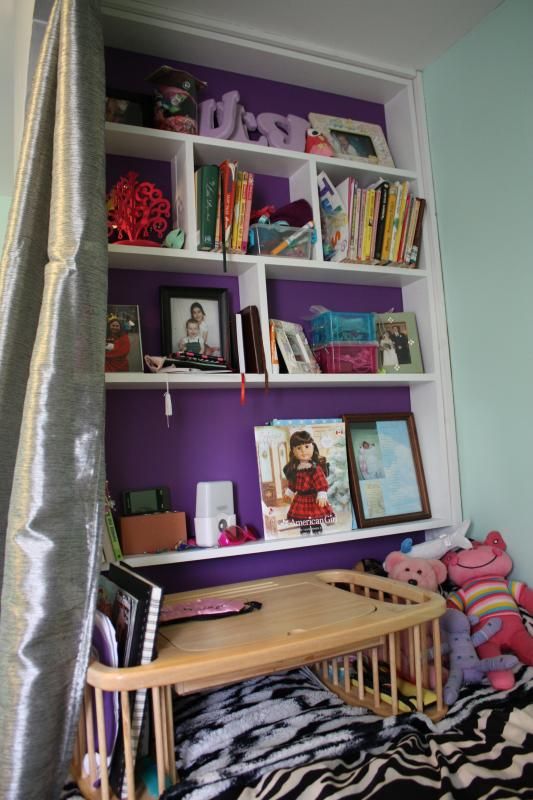 another picture of the shelf at the end of her bed already filled with stuff. Oh notice that little lap desk? My dad found it at value village for her! Isn't it great? It opens up and dad built a little box under where it opens to store paper and her pencils.
After a LOT of painting and lots of days since I took on this project on my own, I finally got the room completed. Now you may notice that Sweet Pea's matteress is on the floor. That's because dad is working on a captains bed for her so we can completely get rid of the dressers all together. It will come probably for not a few more weeks though as time seems to be not in my favor these days.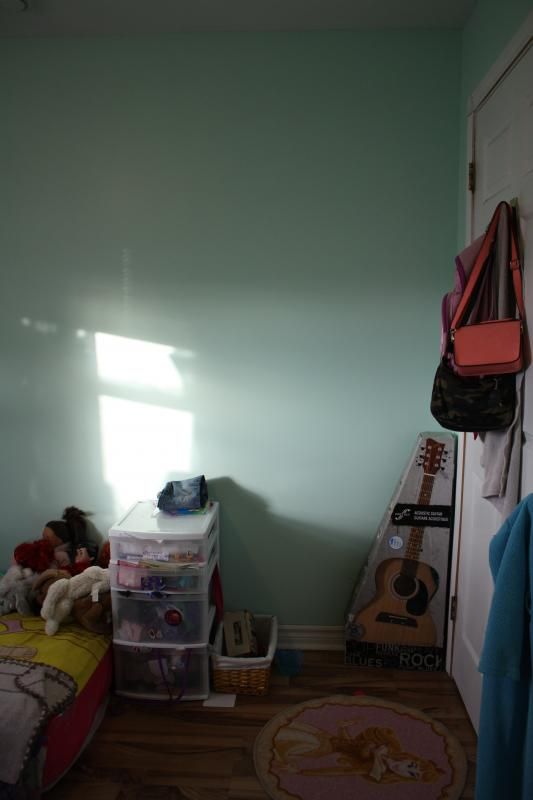 Behind the door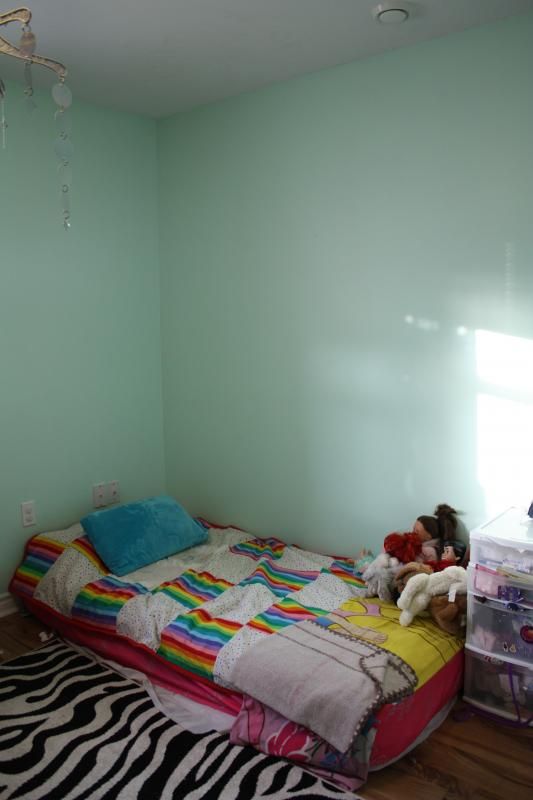 Sweet pea's side of the room. We are still looking for a perfect comforter for her but for now her sister's old rainbow bright quilt works. Also if you look up in the previous pictures, that white shelf shaped like a house that was on the wall above J's bed, will be installed on the wall above Sweet Pea's bed so she can have a shelf of her own. She is very excited about this. I didn't want to put it up until we got her bed in there though just so we don't put any unnecessary holes in the wall. :)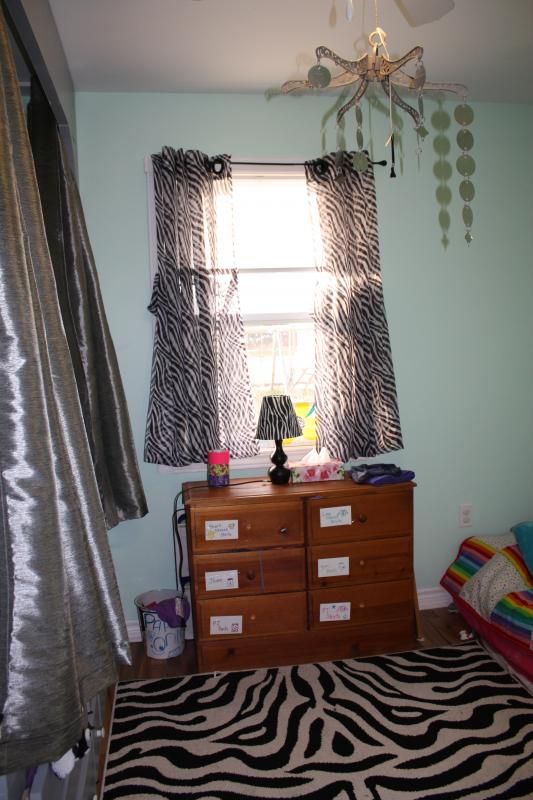 Middle of the room. That dresser will be gone as soon as Sweet Pea's bed is made. J is asking me to build her a desk in that spot but I may just enjoy the open space for a while.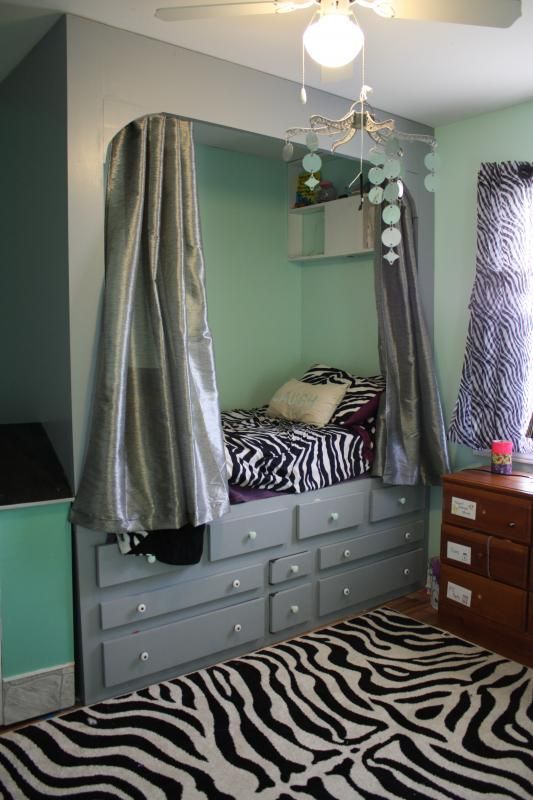 J's side of the room. Can you tell she is just a tiny bit obsessed with zebra print? My dad gave her the rug for her birthday this year and she was just over the moon. The curtains are see through so she doesn't get as much privacy as she would like but I have some wonderful plum colored sheets that my dad found in his stash that I am going to sew into the backs of them to make them thicker.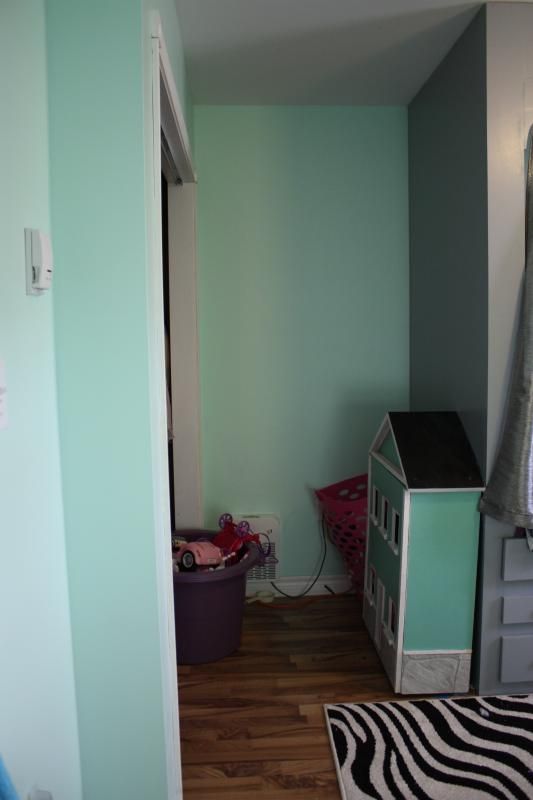 End of J's bed and the closet is to the left.
And there you have it, I know I had a few of you curious from the remarks I've made on facebook but I really wanted to wait until it was all finished before I shared pictures. Like I said before, I wasn't crazy about the idea of mint green in the room but I have to say, I love how bright it has made the room. I never realized how dark that wonderful caramel color made the room until now.