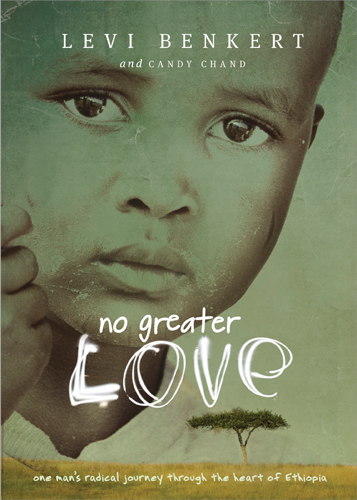 A little while ago, I got the chance to read this book, No Greater Love by Levi Benkert. I received it free from Tyndale Publishing in exchange for a review. I was not required to give a positive review but I'm going to give one for this book! I wanted to read this book because it's subject has been touching my heart lately. As I prepare myself for going to Africa myself in November, I wanted to read about other peoples journey's. I think it arrived in the mail on a friday and by Saturday morning I was finished with it. It was by no means a short book but I just couldn't put it down. I was in tears before I even finished the first chapter.
Levi Benkert had been playing at the park with his kids when he got a phone call from a friend urging him to take a two week trip to Ethiopia. He went and 6 weeks later, he and his wife sold their house, packed up their kids and moved there. They rescued children who were condemned to death by a tribal superstition.
His stories of their triumphs and their failures will touch your heart. His stories were honest and at times very raw. His journey was not an easy one but he found purpose and meaning to his life. I highly recommend this book. One statement jumped out at me and I'd heard it before but forgot it was this. "We were made for more than this" This book challenges you to step out in faith and do the unthinkable. I loved it.